T h e B u g a l o o s ! ! !

Billy Barty News
(Sparky the Firefly)


---
Billy Barty was the man who brought "Sparky" to life, as well as a host of other loveable Krofft characters ... to say nothing about his long list of other credits.

If you would like to know more about Billy Barty and his career, check out Billy's "A&E Biography" show, which is scheduled to air on Thursday, December 12th, 2002 at 8:00pm EST. Please double-check your local listings for the exact time and channel in your area.

In addition, Billy Barty's official website (www.billybarty.com) has details on a new book called "Within Reach", written by Billy's nephew Michael Copeland and his wife Debra. The new book can be ordered now through the website, and should be available in bookstores sometime in the next couple of months.

Here is an shots of the cover: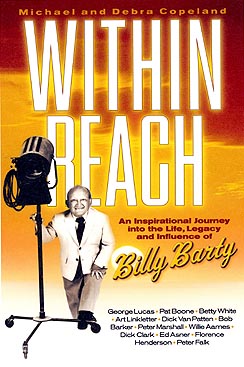 For more info on Billy Barty and his role as Sparky, be sure to check out this page.
---
Back to Rock City News
Back to Tranquility Forest
---
Page copyright © 1997-2002 Bill Ung
All Rights Reserved
www.bugaloos.com